바로가기메뉴
---
---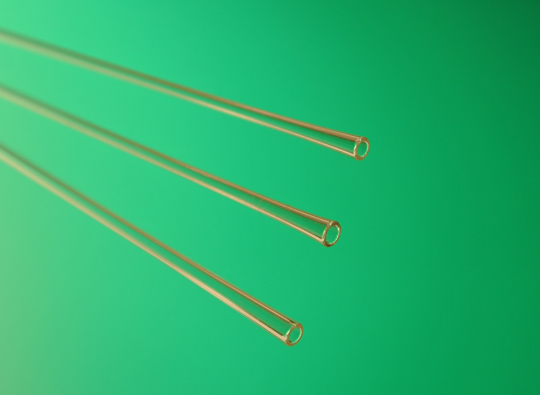 The major difference between our standard capillaries and conical capillaries lies in the different opening diameters on both ends.

Whereas standard capillaries are manufactured with the redrawing-method conical capillaries are produced in a discontinuous process.



*Materials


Soda-lime glass (AR, I860, PH360 etc.)
gamma sterilized soda-lime glass
Borosilicate glass (DURANⓒ, PYREXⓒ, SIMAXⓒ etc.)
Neutral glass (FIOLAXⓒ and DUROBAXⓒ)
Aluminum silicate glass (Schott 8252/8253)
Lead glass (lead content up to 28%)
Sealing glasses for various metals such as: kovar, molybdenum, steel, silver, platinum, palladium



*Dimensions


For the dimensions of conical capillaries the following parameters can be adopted. In doing so, the combination possibilities are limited. Therefore, e.g. a combination of long distances with minimal changes of their cross-section is not possible.

Length: 10 - 200 mm
Outer-Ø (blank): 2 - 10 mm
Inner-Ø: max. 8,0 mm - min. 0,1 mm

Please note that only two parameters can be selected whereas the third parameter results from these parameters. Typical default parameters are lengths and maximum and minimum inner diameters.
---
오늘 본 상품